Join me for the retreat of a lifetime in Portugal's beautiful Algarve this September 9-13, 2021.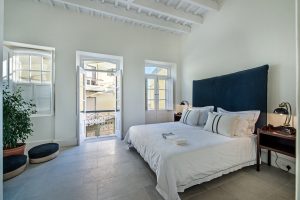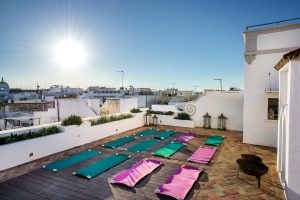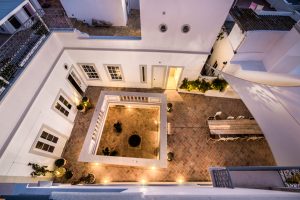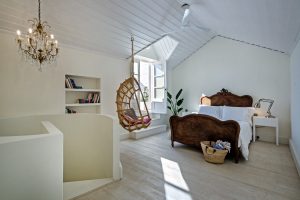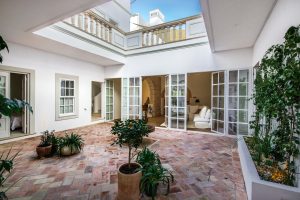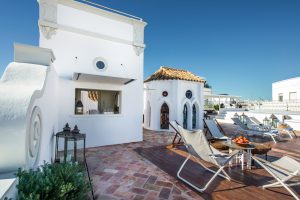 Thursday, September 9 – Monday, September 13, 2021
Join Ingrid for an inspiring and rejuvenating yoga retreat in Portugal's Algarve!
With 300 days of sunshine every year, this paradise in Southern Portugal is the perfect place to unwind, relax, and re-energize. Held at the exquisite retreat center, Casa Fuzetta, the space is designed to nourish and support your soul. Reconnect with yourself on this 5-day retreat, which will start every morning with a mindfulness practice in the meditation hall. Then, enjoy a dynamic yoga class designed to warm the chakras and advance, so all yoga levels are welcome. The day will end with a candlelit restorative, yin or reiki class and the opportunity to indulge in a personal treatment offered throughout your stay. The retreat is designed to promote ultimate relaxation and rejuvenation while surrounded by beauty, offering you the space to find grace and rest.
What's included:
Two yoga classes/day ranging from vinyasa in the mornings, and deep stretch, restorative or yin with reiki in the evenings.
Daily mindfulness/meditation class.
Full and exclusive access to this luxurious retreat center in the courtyard where you can listen to the fountain, soak in your clawfoot bathtub, or enjoy a world-class massage.
Fully-stocked luxurious rooms with the highest quality amenities, soaps and bathrobes, including claw-foot bathtubs, chandeliers, velvet chaise lounges, antique furniture, water bottles, and yoga mats.
Planned day-trip to the nearby remote islands (just a 30-minute boat ride)
Plenty of time to relax and find a hiding space in this exquisite home, snuggle up in the Library with your favorite book, lay back in the glorious sunshine decks, or take a dip in the roof top pool as the sun sets.
Two daily meals (large brunch and plated dinner) to nourish your body with delicious food curated by our own private Portuguese chef. *All meals are organic and customizable to all dietary needs (vegan, gluten free, etc.).
Guided strolls through the lovely streets of the charming Portuguese villages to explore the handmade ceramics well-known from this region.
Recommendations on where to find wander into a café to listen to Fado, the expressive Portuguese music.
About Casa Fuzetta:
Casa Fuzetta is a beautiful, renovated historic home located in the heart of Portugal's Algarve. Originally, a classical residence, it was lovingly restored over three years with restoration completion in 2016. Local craftsmen and artisans were gathered to restore the property to preserve its architectural heritage and imbue it with contemporary design and comfort- including a spectacular rooftop pool!  The design is truly exquisite, with a palette of natural elements– white, stone, wood and linens, creating a space where everyone feels at ease the moment they walk through the door. The first level centers around a limestone courtyard with a fountain and lavish green plants next to a stunning library space where yoga classes will be held. The heart of the second level includes a state-of-the-art kitchen for all to gather, and a magnificent stained-glass meditation space. The third floor holds another outdoor yoga space and the rooftop pool. Each guest room includes sumptuous bathrobes with highest quality soaps and shampoos. The beds have the highest quality sheets and pillows for a truly luxurious experience. The rooms are decorated with velvet chaise lounges, claw-footed bathtubs, chandeliers and real-wood antique furniture. The entire space is designed to allow you to relax in comfort and luxury. Some come, enjoy, relax, and feel good
.
About the Algarve:
The Algarve is the beautiful southern coastline of Portugal. It is a region blessed with stunning beaches, picturesque fishing towns and a glorious climate, all of which combine to create the perfect vacation destination. The region is very safe, English is widely spoken, and the Portuguese are welcoming and hospitable in the little
towns of the Algarve. It is a destination that attracts many Northern Europeans, and a still somewhat undiscovered (so a less crowded and more affordable) destination in Europe. Soaring cliffs, sea caves, golden beaches, scalloped bays and sandy islands offers a paradise for surfers, travelers and vacation seekers from all over the world. It is the perfect place to relax, enjoy the beauty of the ocean and engage in European old-world charm.    
Pricing:
5 days /4 nights, accommodations, yoga and gourmet meals included. All prices in USD.
-King bed, single occupancy: $2150pp
-King bed, double occupancy: $1500pp (must be booked simultaneously with another guest for a total of $3000 for the room)
-Twin bed, shared room, double occupancy: $1500pp (must be booked simultaneously with another guest for a total of $3000 for the room)